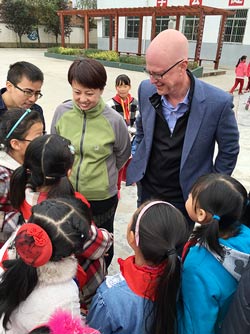 Don Rettig in Xi'an, China, at a school for "left behind" children of migrant workers
Helping Our Communities Thrive
Recently, the Business Roundtable made news by redefining the purpose of a corporation. That new definition expanded the list of corporate stakeholders beyond shareholders and included supporting the "communities in which we work." To those of us who are immersed in the work of corporate citizenship, this was less a surprise than an acknowledgement of the work many corporations have undertaken over the past decade.
I came to Owens Corning in 2011 to help rejuvenate and grow our community engagement program. What I found was tremendous support from senior leadership and an ever-increasing interest in making the world a better place in our communities around the globe. However, at that time, less than 40% of our facilities were engaged in any type of community volunteerism.
Like many manufacturers, we have facilities that are in continuous operation because of the nature of our processes. It isn't possible for us to close a facility to host an all-day volunteer activity. To make sure that all our people have the opportunity to participate in company-sponsored community outreach events, we've had to be creative. For instance, we've been working to bring volunteer opportunities onsite, through activities like preparing hygiene or meal kits for local shelters, or filling backpacks with donated school supplies for local children. We seek out exceptional charitable partners whose mission connects with our people, and encourage our local leaders at all levels to engage their people in these activities. Today, we have expanded our community engagement to over 80% of our global facilities.
In 2019, our volunteer teams truly span the breadth of our geography – from North America to China to India to Europe and all points in between. Our teams in Mexico built a school for deaf children and support orphans at a school near one of our plants. In India, Owens Corning volunteers install sanitation and clean water systems for villages and migrant schools, and our teams in Europe help collect and serve food to the hungry. In the U.S., we continue to build safe, efficient homes for people in need.
While the Owens Corning Foundation provides financial support for this activity, the thread that connects it all is volunteerism. Our funding follows our incredible volunteers as they dedicate their time in our three key areas of focus for helping people in need in our communities: housing/shelter, basic health, and education.
Volunteerism connects our people with the company in a deep and meaningful way. Today, it is common to see our teams walking through their plants or in our world headquarters proudly wearing their "Team OC" volunteer t-shirts. Volunteerism builds pride and esprit de corps while also forging closer relationships with our local communities.
As we look toward 2030, we have set a powerful community outreach goal, for 100% of our people to participate in community volunteerism. That goal will certainly challenge us to step up our game and seek new and innovative ways to engage our people. But volunteerism is a team sport, and the people of Owens Corning are incredible team members whose passion for making a difference will continue to make the world a better place.