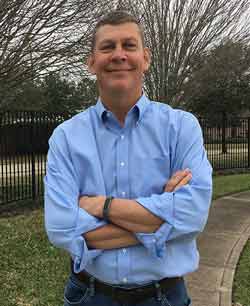 Dr. Brian Linder, director of enterprise medical health and wellness
Building a Healthy Future
Our holistic concept of sustainability stresses the interconnectedness of different elements: environmental, product, social, economic, etc. Human life on earth is the thread that connects all these elements.
From my perspective as the corporate medical director of Owens Corning, the company's ambitious wellness aspiration is a natural extension of our purpose. We've declared that our aspiration is to eliminate all lifestyle-induced disease and enable the best possible quality of life – where people flourish and are healthier because they work for Owens Corning. Everything we do to support our employees' health and wellbeing is a vital part of our sustainability work, enabling our people to help make the world a better place.
We have great wellness programs in place across the company that provide tools, resources, and support for our employees. As we think about our aspiration for 2030 and beyond, we have work ahead of us to not only continue and strengthen these programs, but to define the metrics that will help us know what is working.
To do that, we're relying on health science. We are building programs to address known risk factors – like high blood pressure, being overweight, and smoking – that increase the likelihood of certain diseases. Several organizations, like U.S. Healthy People and the World Health Organization, have developed benchmarks that guide our approach.
In the U.S., we have access to aggregate data about our employees' health through our health insurance plans and employees' self-reporting. From that, we're starting to be able to connect participation in our wellness programs to improved health measures. Armed with the knowledge of which programs make a difference for our employees in the U.S., we can ensure that our entire global workforce has access to those same tools.
An example is our Healthy Living program. It's designed to focus attention on multiple aspects of wellbeing, going beyond physical fitness to include mental health. We have implemented a mobile app and web platform that helps employees engage with their wellness every single day, and to reward them for doing so. We've gathered evidence that this engagement leads to behavior change, reduces health risk factors, and leads to better health and wellbeing. Our wellness champions are constantly looking for novel ways to engage our employees about their health and to increase participation in our programs. Whether our employees engage with the app or just participate in company-sponsored activities, we know that it's a step toward a healthier future.
It's exciting to know that we're helping our employees enjoy better health and wellbeing. Like most of our sustainability aspirations, though, we also want our efforts to benefit people outside Owens Corning. What our employees learn, they can share with their family and friends. Their commitment to healthy living becomes visible in their communities. As I see it, it's a perfect example of how one company's ambitious sustainability goals can help make the world a better place.