Owens Corning is five years into our second set of 10 year environmental footprint goals. We have made significant progress yet we continue to look for opportunities to shrink our environmental footprint through a continuous reduction of resource use and environmental emissions from our operations. Our goals are for the period of 2010 to 2020 and based on what matters most given our specific operations.
We focus on six key aspects:
To assist in our reduction efforts, Owens Corning implemented an enterprise wide software solution to better manage our environmental sustainability data and ensure our facilities have data to make decisions and are informed of their impact on our goals. The system combines quality assurance and data capture capabilities while allowing a streamlined external audit process. To ensure consistency and standardization, Owens Corning follows World Resource Institute (WRI) Corporate Accounting & Reporting Standard for all our environmental reporting. We report under operational control.
The company's six aspects are shown in the footprint graphic below. The 2010 baseline year is shown as the dark blue outside border of the spider chart, representing 100 percent of each aspect. The pink center footprint indicates the company's 10-year intensity goals. The light blue footprint represents our status at the end of 2014.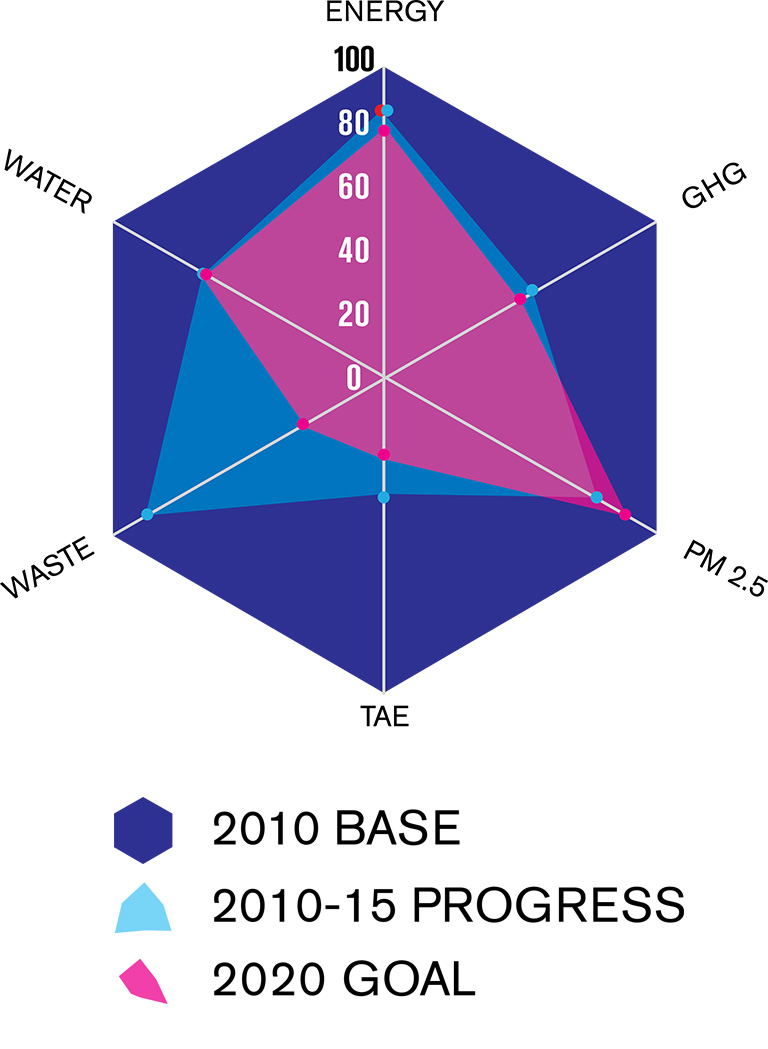 | Environmental Footprint | 2020 Goal | 2010 - 2015 Progress |
| --- | --- | --- |
| Energy (Primary) | 20% intensity reduction | 17% intensity reduction |
| Energy (Consumed) | No intensity goal | 17% intensity reduction |
| Greenhouse Gas GHG | 50% intensity reduction | 41% intensity reduction |
| Fine Particulate Matter (PM2.5) | 15% intensity reduction | 17% intensity reduction |
| Toxic Air Emissions (TAE) | 75% intensity reduction | 66% intensity reduction |
| Waste to Landfill | 70% intensity reduction | 14% intensity reduction |
| Water Consumption | 35% intensity reduction | 32% intensity reduction |
The chart indicates that Owens Corning has reduced its intensity in each of the six aspects and has now met its 2020 goals for greenhouse gases (GHG) and toxic air emissions (TAE).
Actual Environmental Impacts, 2010 and 2015
This table shows the actual values of the monitored parameters in 2010 and 2015.
Emission or Resource
Year
Consumed Energy


(millions of MwH)

GHG


(millions of TPY)

PM 2.5


(thousands of TPY)

TAE


(TPY)

Waste to Landfill


(thousands of TPY)

Water


(millions of m3)

2010
8.3
4.7
2.2
1.0
267
11.2
2015
8.4
3.7
2.1
0.4
261
9.8
Primary Energy — Total energy required to generate, transmit, and distribute electricity from the power generation source as well as energy sources used onsite such as fossil fuels

Consumed Energy — Energy used onsite such as the electricity consumed on site and fossil fuel usage

GHG — Greenhouse gases, defined as gases which contribute toward the Greenhouse effect, including carbon dioxide, methane, nitrous oxide, HFCs, and HCFCs

PM 2.5 — Particulate matter, defined and reported according to regional government requirements.

TAE— Toxic air emissions include hexavalent chromium, formaldehyde, manganese, polycylic aromatic compounds and ammonia emissions.

Waste-to-Landfill — all types of solid wastes going to landfill for disposal

Water — Water that enters the plant; sources include local utilities and wells

TPY — Metric tons per year

m3 — Cubic Meters

MwH — Megawatt hours

1Intensity is normalized based on product produced.