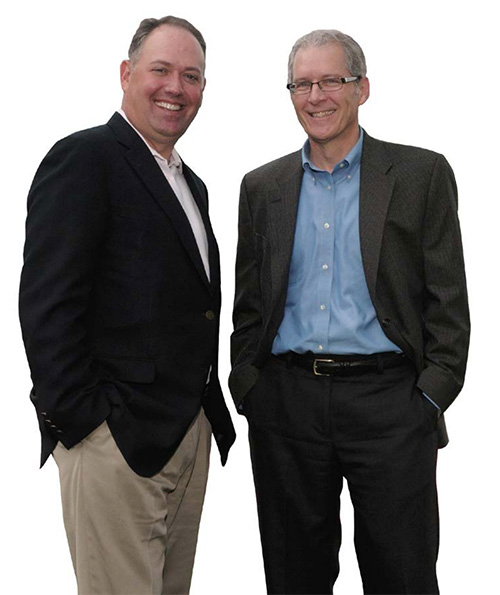 CEO and CSO Letter
At Owens Corning, expanding our impact through sustainability is a core value and an essential element of our business. Our commitment to sustainability begins with the recognition that the foundation of a sustainable enterprise is built on financial strength, environmental stewardship, great and relevant products, innovative thinking and sustainable talent. We recognize that it is not merely sufficient to reduce our footprint on the planet, but must also expand our handprint through our strategies and actions.
In 2015 we continued the steady progress of reducing our footprint and expanding our handprint. Having met our 2020 greenhouse gas reduction goal early, we significantly increased our goal using science-based target setting methodology. While much progress was made in 2015, our journey does not end and we continue to pursue initiatives that will help us advance our strategy and expand our positive impact around the globe.
Our focus in the coming years will be to:
Scale our impact in energy efficiency collaboration in residential and commercial buildings;
Advance our global renewable energy strategies;
Focus on further reducing our greenhouse gas emissions through primary energy use reduction and substitutions in our foam blowing agents;
Reduce our manufacturing waste generation and develop larger scale recycling options for glass fiber waste in our operations;
Engage our employees and customers in responding to the needs of communities throughout the globe where we operate;
Accelerate our wellness progress around the world;
Continue our progress toward zero injuries; and
Increase our net-positive impact by growing our global company.
We invite you to review the highlights of our progress this past year against our strategic pillars, and then further explore our web-based 2015 Sustainability Report to learn of our progress and track our performance against our goals.

Mike Thaman
Chairman and
Chief Executive Officer

Frank O'Brien-Bernini
Chief Sustainability Officer
Operations Sustainability
Met our 2020 greenhouse gas and toxic air emissions goals ahead of schedule. We announced increased 2020 commitments of 50 percent and 75 percent reductions for these environmental impacts respectively, and incorporated science-based greenhouse gas target-setting methodology into our strategy.
Completed purchase agreements for 250 megawatts of wind energy, the largest of any industrial company in the world at the time. This will generate the equivalent electricity for more than 65,000 U.S. homes.
Installed a 2.4 megawatt photovoltaic canopy over the entire employee parking lot at the headquarters, in Toledo, Ohio. The largest system of its kind in the Midwest United States.
Completed an agreement that will enable our newest plant, in Gastonia, North Carolina, to meet its zero waste to landfill goal.
Product and Supply Chain Sustainability
Met our 2015 product transparency goal by completing Life Cycle Assessments and/or Environmental Product Declarations on all core products, and produced industry-first Cradle to Cradle Material Health Certifications, now recognized in the LEED green building standards.
Completed the largest capital investment project in its history with the construction of the nonwovens plant in Gastonia, North Carolina. The plant will produce an exclusive innovative portfolio of formaldehyde free products, like the biobased Sustaina® line, for various building product applications.
Facilitated the recycling of 2.5 billion pounds of end-of-life shingles through our networks, a 4 percent year-over-year increase, and 1.4 billion pounds of glass into our Insulation products, a 7 percent year-over-year increase. We have continued our progress in growing shingle recycling, and continue to work with others on business and technical innovations that will further advance this important recycling stream.
Established a code of conduct for our key suppliers with an expectation that they have a strategy to improve their environmental performance.
Energy Efficiency and Durable Material Solutions at Scale
Used our building science expertise, in collaboration with builders across North America, to routinely build cost-effective, market-leading energy efficient homes using our new high performance insulation and air sealing innovations. Our building science team was instrumental in the design, construction and marketing of the most energy efficient The New American Home ever built for an International Builders Show.
Our growing product and systems portfolio, coupled with our world class building science capabilities, have positioned OC as a trusted resource for Architecture, Engineering and Construction professionals who specialize in building enclosure design and construction. Our collaboration focus is on maximizing energy efficiency and comfort while overcoming design, code, durability and liability challenges.
Safety, Health, Employee Engagement and Community Vitality
Reduced employee recordable incidents by 7 percent year-over-year and operate at a very high level of safety performance. We have fully integrated global wellness and sustainability into our safety and health strategies across the globe.
Expanded our global efforts assisting families in need by providing clean drinking water systems in India and completing our first Habitat for Humanity builds in China.
Provided substantial volunteers, products and financial support to assist more than 1,600 families obtains safe, affordable, energy-efficient housing to needy families through Habitat for Humanity and Make it Right organizations.
Earned placement, for the sixth consecutive year, in the Dow Jones Sustainability World Index (DJSI World) in recognition of our sustainability initiatives, and for the third straight year, were named the Industry Leader for the DJSI World Building Products group.
Aligned our Human Rights Policy with our commitment to the United Nations Global Compact. Our policy meets the requirements of both the California Transparency in Supply Chain Act of 2010 and the U.K. Modern Slavery Act of 2015. It is informed by the Universal Declaration of Human Rights, the United Nations Ten Guiding Principles and the recently released Sustainable Development Goals.
Company Profile
Global in Scope and Human in Scale
Owens Corning (NYSE: OC) develops, manufactures and markets insulation, roofing, and fiberglass composites. Global in scope and human in scale, the company's market-leading businesses use their deep expertise in materials, manufacturing and building science to develop products and systems that save energy and improve comfort in commercial and residential buildings. Through its glass reinforcements business, the company makes thousands of products lighter, stronger and more durable. Ultimately, Owens Corning people and products make the world a better place. Based in Toledo, Ohio, Owens Corning posted 2015 sales of $5.4 billion and employs about 16,000 people in 25 countries. It has been a Fortune 500® company for 62 consecutive years.
Founded in 1938, Owens Corning has close to a hundred operations spread across North America, South America, Europe and Asia Pacific. Owens Corning manufactures insulation, roofing, and composite products. Owens Corning has negligible outsourcing of manufacturing processes and is immaterial to our business.