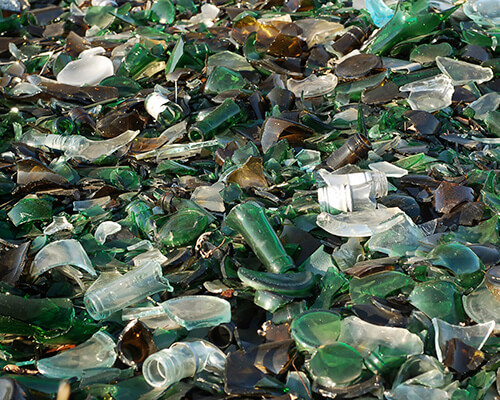 Glass Recycling
Owens Corning is one of the largest users of recycled glass in the world, using over 1 billion pounds annually of curbside consumer containers and pre-consumer recycled glass. Not only does this decrease community landfill waste, but it also lowers our energy use when manufacturing insulation, since starting with raw materials such as sand requires more energy.
But recycling of glass is at risk. While glass bottles and jars can be endlessly recycled and produced into fiberglass insulation as well as other uses, according to the U.S Environmental Protection Agency, only *34% of all glass containers were recycled in 2013. Glass recycling is currently under immense pressure and numerous municipalities across the U.S. have made the decision to remove glass from their curbside recycling programs and further threatening future cullet supply.
To counteract these trends, Owens Corning is actively involved with a number of organizations aimed to make glass recycling a successful industry such as the newly formed Glass Recycling Coalition. The GRC is a partnership of organizations throughout the entire glass recycling supply chain working to develop strategies to assist municipalities with glass recycling decisions and establish a network of glass recycling resources and champions. Owens Corning has also been involved in glass recycling workshops aimed at creating an open dialogue of stakeholders from the recycled glass supply chain.
In addition to our engagement with the Glass Recycling Coalition, we also work with the North American Insulation Manufacturers Association (NAIMA) and involved in several educational and informational workshops including those by the Closed Loop Fund and the Georgia Glass Recycling Workshop coordinated by SMI.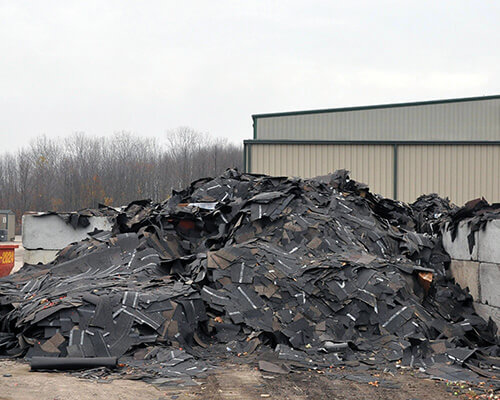 Shingle Recycling
Owens Corning Roofing and Asphalt, is committed to a national strategic alliance with Earth911.com and Heritage Environmental Services to help connect contractors with convenient shingle recycling facilities across the country. As part of this Owens Corning recycling effort, the program allows contractors to take the Preferred Contractor Shingle Recycling Pledge, committing to recycle their shingle tear-offs and giving them promotional marketing materials to help communicate to homeowners. Currently there are over 100 major cities with recycling locations. Sixty five percent of the United States population is covered by these locations allowing us to add the label "Shingles are Recyclable" on our packaging. In addition, our Owens Corning shingle manufacturing facilities are committed to diverting manufacturing waste to recycling rather than the landfill.
In 2015, approximately 1.3 million tons were recycled, bringing our total since program inception to 4.2 million tons of shingles recycled through our Shingle Recycling Network, the equivalent of over approximately 1.3 million roofs. Every recycled roof is comparable to recycling more than 100 percent of a year's worth of household waste. The recycled shingles provide oil in the form of asphalt for beneficial reuse typically in paving. Additionally, 31 new contractors in our Contractor Network pledged to recycle.
Recycled Content Facts
Our light density fiberglass insulation is certified to have a minimum of 53% recycled content and in some areas we have as much as 73%, while continuing to provide the same energy-saving performance our customers expect.
Foamular® extruded polystyrene insulation products use a minimum of 20% recycled content, using waste from various foam manufacturing operations.

Both product lines are certified by Scientific Certification Systems for recycled content, providing building professionals documentation that these products can contribute to meeting green building guidelines such as LEED® certification.

Thermafiber® mineral wool insulation has a minimum 70% recycled content and is validated by ICC Evaluation Services.
Other Owens Corning® products, including roofing products, have recycled content dependent on where they are produced. Contact 1-800-GET-PINK® for more information on recycled content in any of our products.