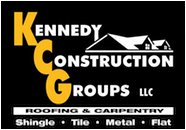 Kennedy Construction Groups LLC
Kennedy Construction Groups LLC
1320 12th St E | Palmetto, FL 34221

Award Winner

Top of the House Certified

SureNail Trained

TPRS Trained
Feedback*

88
%

83
%

93
%

91
%
* Scores based on all feedback for this contractor.
Total Ratings
(472)
All Reviews with Comments 38
Reviews with Comments**
Showing Recent Reviews with Comments
I was given a "bait and switch" regarding my lanai roof and house roof. I told company that they could install new house roof if they repaired/replaced lanai roof. Our contract shows such (new lanai roof) as did the building permit. A man appeared on a Friday afternoon and asked worker on roof if he would be there on Monday to do lanai roof. Worker replied "si". NO SHOW ever!Three extremely obese people (2 young men and an older woman) arrived at my home that next week demanding final payment for roof. They then tell me that they will/can not do lanai roof, and that I will not have to pay for it......I should hope not.Building inspector arrived later in day and I told him what happened. He asked to see my contract with company. (The building permit included the lanai roof.) The inspector wanted to be sure that I did not pay for something I did not get! Great guy! He said that his report would included their unethical handling of contract.I asked that the workers NOT to put metal roofing from house on my neighbors lawn. They said that they would remove it right away. Now, there is a large bare area in neighbors lawn. I feel badly about the lies your company made. They left metal there for a week, just long enough to kill grass!That neighbor is getting quotes (in the $100,000.00 to $150,000.00 range) for his new roof. Guess who I told them NOT to use and why. You guessed it....Kennedy Construction Group!I have family in the housing construction business and told them of my terrible experience.I can handle all the bushes that were broken and trampled on as my driveway is narrow. No apologies there either.When I ask one of the white men who supervised please not park on drive, but on gravel outside fence because he was leaking oil from many areas of his pick up truck, he said it was not him....as oil is dripping.Should I go on?Oh, yes, my roof vent does not have a cover on it....where is the water going when it goes down into vent?NO ONE arrived the next week or any other week to fix lanai roof..what liars!I have several RE neighbors and even a family member.......all have been given the lowdown about Kennedy CG.
They did a really fine job.
The most expensive quote we received, but worth the price. From initial conversations to finishing the install, Kennedy was prompt, professional, and genuinely concerned about the quality of their work. I offer a strong recommendation from someone who's tough to please.
Kennedy Construction Group is very prompt, professional and provide a quality product. They replaced our shingle room with a new Owens Corning shingle roof. I highly recommend them for roof replacement.
**Displaying 38 Owens Corning Roofing reviews with comment.
For all reviews and comments, click here to visit this contractor's profile on GuildQuality.com.