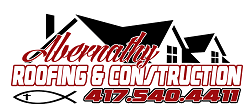 Abernathy Roofing & Construction
Abernathy Roofing & Construction
1901 North Rangeline Road | Joplin, MO 64801

Financing Available
Feedback*

92
%

92
%

95
%

99
%
* Scores based on all feedback for this contractor.
Total Ratings
(175)
All Reviews with Comments 22
Reviews with Comments**
Showing Recent Reviews with Comments
They showed up and did their research on my home. I have a different type of roof. I have a dome home. This was during Covid. My house would have fallen in if they didn't come to do my roof. No other local places would even touch it. They traveled a long way to do this. The owner is absolutely amazing. They had to study things to learn how to do a dome home. They did it and they did it right. They are an amazing company.
Working with Abernathy Construction was great! Richard Grey worked as our account manager, and he was a pleasure. He provided us with great clarification on any concerns or questions. The leads took care of the leaf filters on the gutters as well and did a great job.
I was very satisfied with communication, workmanship, and job completion.
I was very happy with the work.
They have excellent service!
We appreciated their patience and helping us make a selection.
They did an excellent job, were thorough and quick.
Abernathy Construction did an excellent job!
We met with Patrick. He gave us all the information we needed. He always checked on the crew and updated me on the progress. The crew was just fabulous. They worked from the time they got here until the end of the workday. They didn't chit-chat or goof around. They were very efficient.
I would recommend Abernathy Construction to anyone!
Abernathy Construction has an employee working for them, Patrick Stone. He represents their company very well. He is extremely trustworthy, and did exactly as he said he would do!
Patrick was very good to work with. He was very professional and courteous, and actually helped us out with a problem we did not even know we had. He went above and beyond to help us.
The initial contact was very professional, knowledgeable, and friendly. He obviously knew what he was talking about. He was a great man. We had work done on our church by them. That is why we chose them. They did an excellent job, in a timely manner.
I was completely satisfied with the work they did. They did everything they said they would do. I had no problems with it. I was very pleased.
I really liked working with Patrick. He was professional and helpful.
They did such a good job the first time, I called them this time too. I would recommend them because they did such a good job.
They were quick, fast and did quality work.
Abernathy Construction went above and beyond to help us out. They were super helpful.
Abernathy Construction was very professional in everything they did. I was very, very pleased with them.
They did a great job and in a hurry. They tore off the old roof and put on 84 squares in one day!
They did a really good job.
**Displaying 22 Owens Corning Roofing reviews with comment.
For all reviews and comments, click here to visit this contractor's profile on GuildQuality.com.