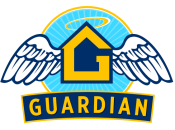 Guardian Roofing, Gutters & Insulation
4020 Auburn Way N | Auburn, WA 98002

Total Ratings
(608)
All Reviews with Comments 22
Social Media
About
Our co-founders Matt Swanson and Lori Swanson have collectively worked in the roofing industry for more than 60 years and started the company in 2005. We are well-known for our deep commitment to customer service and team of high-quality, professional contractors. We serve thousands of customers across the Puget Sound region and is passionate about helping homeowners make their roof last for life. When customers choose us, our experienced, trained contractor team spends as much time as each homeowner needs to understand the condition of their home, and the actions necessary to correct the problem. This often means utilizing maintenance and repairs whenever possible – rather than focusing homeowners solely on the purchase of a new roof when they may not need one. This commitment to honesty and integrity has helped our company grow and thrive, while gaining loyal customers across the Puget Sound Region.
Videos
Reviews with Comments²
Showing Recent Reviews with Comments
They did an excellent job. I am very happy with the work that was completed.
The project was not inexpensive, but addressed a number of things related to the roof (chimney, gutters, sagging roof, etc.). The crew worked well and did nice work overall. There were a few minor hiccups, but things were quickly addressed and resolved by the foreperson. I'm not wild about their various departments, as it leads to some confusion on billing and stages of completion. If you've worked with them, you likely know what I'm referring to. I did appreciate the notices of crew deployment and most of the were accurate. We had one or two where we received a notice of someone coming and they did not or were delayed. Overall, I'm satisfied with the work and will see how things work through the first wet season.
Work done on time, no issues. Overall good experience.
When spending the amount of money we spent on our roof with Guardian Roofing, communication between the homeowners and Guardian Roofing is a top priority, as is the quality of materials used that you paid for and the application of those materials. In this area Guardian fell flat with us as customers. The first two days of our reroofing job, there was no foreman on site. The roofers had questions for us, the homeowners, yet they spoke Spanish and we do not...we couldn't understand them nor they us, it was frustrating, we felt we had to monitor them "as on-site" foremen so we could answer any questions that may have had, but again communicating was very hard. One of the roofers did the best he could and used the translation app on his phone to try and explain what he was trying to convey to us. Our neighbor was with us when this happened and she asked us where the site foreman, I had to explain that I didn't know. It was not roofer's fault...Guardian promised when we signed the contract that there would be an on-site person each day for us to communicate with and there wasn't. And because of this communication gap, there was an error on day one that resulted in having to remove roofing material that had already been laid down. In the end, the job was completed and the roof looks nice...however, I am not 100 percent confident that the job or material were installed correctly because there was no one on-site to walk me through it as it was occurring...something I expected for the money I paid, and it was a lot.
Displaying 22 Owens Corning Roofing reviews with comment.
For all reviews and comments, click here to visit this contractor's profile on GuildQuality.com.