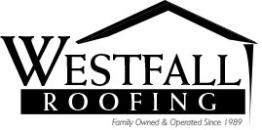 Westfall Roofing
Westfall Roofing
5413 W Sligh Avenue | Tampa, FL 33634

Award Winner

No-Contact Services

Financing Available

Top of the House Certified

SureNail Trained

TPRS Trained
Feedback*

92
%

92
%

94
%

95
%
* Scores based on all feedback for this contractor.
Total Ratings
(964)
All Reviews with Comments 59
Social Media
About
Westfall Roofing is a full-service roofing contractor. Westfall has helped thousands of customers since 1989 in the Tampa Bay and Sarasota areas. We are Florida licensed, bonded, and insured so you can have peace of mind knowing you will not get swindled by a fly-by-night roofer. In addition, Westfall Roofing is an Owens Corning Roofing Platinum Preferred Contractor. Along with our hard-earned credentials, Westfall's tenured associates are what separate us from other roofers. Our culture, values, and processes called "The Westfall Way" ensures we consistently deliver on the promise to protect your home. And we work hard each day to be reliable, detailed, and respectful of your property. We understand that our reputation is everything and, we do not take that for granted. Looking for a quality roofer? Your search is over. Contact Westfall Roofing to experience for yourself how we are different.
Reviews with Comments**
Showing Recent Reviews with Comments
I had a great overall experience with company, foreman and crew!
They are very professional and efficient.
Everything went well and it is a good company.
Westfall was very easy to work with and made the entire experience great. Very fast install and left the work site cleaner than it was before they got there.
The quality of the roofing was very good, but the quality of the service was very bad. I had to have them re-stucco the broken parts and pick up trash. I had to point out the defects that they caused, and they denied responsibility.
From start to finish, we were impressed with Westfall Roofing. You'll have to look elsewhere if you're looking for the cheapest roof replacement possible, but if you're looking for quality - every aspect of Westfall is top notch. The customer service team, the roofing crew, the equipment delivery team, the on-site team leaders, the inspectors, the billing team - everyone we interacted with was professional, friendly, and knowledgeable. We highly recommend Westfall Roofing.
West Falls roofing did a very good job with my roof and they were quick to address any issues i encountered. The office staff was the best. They were always eager to help and very pleasant and easy to deal with. The main reason for only giving them 4 stars is my issue with the screen repair man they sent out.
From start to finish, they actually performed their job extremely well. The representative that came out was very thorough and covered everything. He showed us all the materials that would be used, and how they would be used. It was a very well-performed job. I was very happy with what they did. I did my research and chose Owens Corning products for this project.
Professional company that provided professional results! The installation went as per schedule all staff (sales, installers, administration) were professional, responsive and knowledgeable. Overall a great experience!!
I went out and received 4 quotes, Westfall was the most expensive, but in looking at their reviews I felt confident that the extra money would be well spent unfortunately I had shingles separating, lifting up from the roof. The first two times someone cam out and repaired the issue and I was told that this sometimes happens when shingles are set in damp, cool weather. The third time I was told the problem is because I had new gutters put on and that it was because of that the shingles were lifting and was given some other reason for the lifting in areas where there are no gutters. Well, they are still lifting and it's now my problem.
Absolutely top notch in every way. I couldn't have asked for a better experience. I would use Westfall Roofing again in a heartbeat!
They provide excellent customer service and do a professional job. We are extremely happy with our new roof.
They were extremely professional and kept me posted. They returned my calls immediately. They did a fantastic job on workmanship.
They did an excellent job.
Very prompt and professional. Supplier broke a sprinkler junction box in the yard with their truck and Westfall took care of it quickly. They were the only company that went into the attic and took pictures. Also fastest turnaround time
Everything promised was done very professional,couldnt ask for a better roofing company to work with very happy with the results!!
I was extremely pleased with the work that Westfall Roofing performed. I got a call from the site supervisor every day, our project took 5 days to complete, and I was thankful for those reports.
They were great, and finished in one day. They cleaned up. The inspector approved the work. They've been great to me.
I by my nature want to know the how, and why of every bit of materials and activities that would go into my roof project. Sales had the real-world experience and required skills, and the sales manager took prompt care of any questions that were outside the sales representative scope. Utilizing current crew managers to answer more specific questions as well as review for possible "build" problems that might occur based on my choices or requests was amazing. I felt Mr. Westfall's own review and comments supplied the confidence that the job would and could be done the first time adhering to the estimates and specifications of the contract. Everyone at the company was always courteous. When I needed to change the schedule or some item, they always accommodated me. I would also like to note the production manager and onsite manager for their attention to detail and dedication to communicating with me to make sure the job was done right and was the result I desired.
We were very satisfied with everything and I would recommend them.
Very professional Roofing company. Highly recommended
Everyone at Westfall Roofing I contacted was incredibly professional. They were able to get my roof done quickly and professionally. I have no problems at all with Westfall Roofing and I would highly recommend them.
Westfall Roofing did a very good job, and we are happy with the results.
We had a difficult situation where they had to remedy defective shingles that were installed by another company. They did a fantastic job with it. We are very pleased with the outcome.
when I called the office and spoke with Tonja everyone was so friendly and professional and I would recommend them to my friends and family.
Great job. Roofers were very professional and informative of their operation. As well as the gutter installation. All in all, very well-oiled machine and high performance. Clean-up and protection of property was outstanding which made a very easy roof/gutter install.
I enjoyed working with Westfall roofing. They always answered the phone, came on time and replied to all emails. The roof was finished in less than 2 days and nothing around the house was damaged.
They were great. They couldn't have been any better.
They were professional and installed high quality material. Overall, I am very satisfied with the roof replacement.
Good company & prompt work
Westfall was extremely professional and communicated in a timely and thorough manner. Highly recommended
So far, they did everything they promised. They put on gutters also. They have one thing to finish on the gutters. I am sure that will be done with no problems. They did a good job. They did what they said they would. They are very good. Hector, the foreman, did a great job. Josh, the salesman, was good. Everything was good!
Westfall Roofing did a great job. They were professional and punctual. Cleaned up all the nails and debris as promised. Our new roof is beautiful, we get compliments all the time. Highly recommend Westfall
Good process - from initial walk thru to on site work to clean up and departure. Front office and on site communications were excellent. All debris and nails pretty much cleaned up.
It was a little difficult to get on the schedule due to a problem we had w obtaining the license for the job but from the minute they came on our agreed upon day through to the quality of the products used my new roof is amazing to me. We did have what I though was an issue w the wiring above my master bath but not only did Gabriel come over & fixed it, he was a good sport when I realized it was just a burned out bulb that needed to be changed. Overall this was pretty amazing. Both through the folks involved w Westfall & how it all came out.
I am completely satisfied and they did a great job.
Overall we were very satisfied with our installation. This was our first roof so we didn't know what to expect, but westfall and the employees were very knowledgeable and helped out a lot during the process. I'd like to mention a few things, not as a negative implementation, but to recognize that not everything is perfect and sometimes things don't go as planned, however westfall ensured we were satisfied!We had some miscommunication with the color of some of the material. Materials were installed that were the wrong color and had to be removed and the correct color installed. I don't think it's important to assign blame, but instead recognize the fact that westfall stepped up and was willing to help make sure it was taken care of. Regardless of where the miscommunication came from, they were willing to help. I think that is very important and should be recognized! Mistakes happen, things aren't always going to go as planned, but they were there every step of the way to ensure in the end, we were happy! That meant a lot to us! We would use westfall again in the future and would highly recommend them!
They did fast and professional job. It was all finished in under 2 days, unlike my neighbor's house that took a week.
They did an outstanding job. Before starting the job, I looked at multiple roofing company reviews and the time they had been in business, and Westfall was the only company that was able to meet me at my house in person to give me a quote. My salesman talked me through everything. Everything from the initial call through the completion of the roof was outstanding. I have referred so many people to them.
Westfall roofing were really professional from the beginning to the end. The sales associate, office staff, project manager, roofers were all outstanding and would highly recommend to anyone needing a new roof.
If only every company operated like this!! What organization!! so impressed. Great model.
Site manager was suppose to come back and do a final evaluation with us. It has been a month and he has never showed up. Once Westfall was paid . . . they never have come back to finish.
Overall excellent project. Great team and management. No issues with communications. Prompt repair of lanai screen by company from errant tile. Highly recommend
The Westfall Team provided us a great roofing experience. The quality of the work was done in a professional manner by an experienced team of professional. Our roof truly looks beautiful and we would recommend Westfall to anyone based on our experience with the Westfall Roofing Company.
They were extremely professional, from the quote process all the way through to the completion of the job. It looks great.
Excellent service and I was greatly impressed with their work ethics, on time, quiet (wouldn't know they were there except for the banging), attention to details, respectful to my property and to me. Communication at all levels during the process was great. They cleaned up making my yard look better than before. It's been a month and I have not found a single nail. I highly recommend Westfall.
Westfall is very respectable company. Especially, I love their method of communication.
I don't do public reviews
Your salesman Will is outstanding, he went the extra mile for us and we are most impressed with him and your company. Thank you!!
They did a fine job and did what they said they would.
They were professional the entire time and they did exactly what they said they would do
Our experience with Westfall was exceptional. Herman did a great job quoting the price and explaining the process. Simon kept us well informed regarding installation, and used photos to let us see some problem areas they found. Carlos ran his installation crew well and cleanup was very thorough.
You will find Westfall Roofing in the Hillsborough County 5 star recommend publication magazine 2021. I highly recommend them hands down over anybody else.
I thought they were very professional and helpful with questions and issues. They were on time for every appointment.
I am 100% satisfied with the quality, timing and professionalism.
**Displaying 59 Owens Corning Roofing reviews with comment.
For all reviews and comments, click here to visit this contractor's profile on GuildQuality.com.