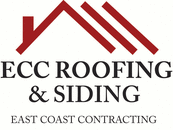 ECC Roofing
ECC Roofing
187 S Route 73 Suite A | Hammonton, NJ 08037

Award Winner

No-Contact Services

Shingle Recycling Pledge

Financing Available

Top of the House Certified

SureNail Trained

TPRS Trained
Feedback*

96
%

94
%

96
%

97
%
* Scores based on all feedback for this contractor.
Total Ratings
(234)
All Reviews with Comments 6
Reviews with Comments**
Showing Recent Reviews with Comments
I was so pleased with the whole entire process from the minute they got here to the minute they ended. I have never seen anything so well organized. ECC Roofing & Siding was just phenomenal. I can't say enough about them. I always recommend them to anyone I come in contact with thinking about a new roof. They are just incredible. The product is a great product. It is a little more costly then other roofs. We got about 8 different estimates, but the Owens Corning product is a longer warranty. 50 year warranty. Wonder, Wonder Company.
With any problems, they took care of them quickly.
ECC Roofing and Siding is a great company to work with because of their consistent dedication to customer service. I am quite pleased with the workmanship. I realize there was a little bit of a delay due to bad weather and other issues. I also feel some of the project could have been explained better but overall, this was a great experience and a company that people can rely on to get the job done right.
Very professional.. excellent work
My husband and I were raked over the coils over the last 2 years with a double roofing company that was suppose to do the job for us. We made a down payment of $2,500 and we are both well into our 70's. That money was never returned to us or the work being done. So when this group came in, I told them right from the beginning.We spoke to many companies and they were the only company to get on the roof, take pictures, and truly show an effort to visualize my concerns. They also were the only company that offered to meet with us again. The internal staff are as thorough as the external staff. There was constant communication. If there was any change even by a half of an hour I was called. "Is it okay? Can we still come to you?" I could not have asked for a better response. I have never received this level of responsiveness from any company. I was extremely happy and impressed. I would favor to work with them on any service they offer in the future!
I could not have been happier with my experince from begging to end!
**Displaying 6 Owens Corning Roofing reviews with comment.
For all reviews and comments, click here to visit this contractor's profile on GuildQuality.com.
Chat