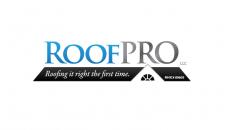 Roof Pro LLC
8137 Telegraph Road | Severn, MD 21144

Total Ratings
(36)
All Reviews with Comments 7
Reviews with Comments²
Showing Recent Reviews with Comments
Roof Pro was extremely professional and adhered to all delivery dates. I would highly recommend this company!
They were professional. It took a long time to come to an agreement on the price but they were very patient and I never felt rushed. They came to do the work and were very professional and they answered all of my questions and got the job done in the promised time.
Our roof was the original roof with the house (27 years), and it was time to have it replaced. RoofPRO was one of several estimates we received, and right off the bat, the level of professionalism and a hands on approach was apparent. In fact, TJ was the only estimator to actually climb up on the roof to look around - everyone else relied on satellite imagery to get a general sense of measurement. Satellite certainly has its uses and benefits to be sure, but this stood out to us in a very positive way. Further, while he was up there inspecting things, he noted two areas where the shingles were completely broken on the roof peak, and applied an emergency patch to each at no charge. Great first impression, and very responsive to any questions that I had (and I had several over more than a week.) Once we evaluated the estimates and made our decision (going with RoofPRO), everything else went like clockwork. Materials were delivered on time, installation team was here on time and completed the job on time. The clean up was excellent. Everyone we interfaced with from estimation to project management to the install team to billing was professional and responsive. The other thing to mention is how well they leverage technology to the client's benefit - they take pictures of everything and share out the pictures at various points through the job so the client can see what is going on. They will use email over phone calls if that is your preference. They offer online, secure invoicing and payment options as well. We are very happy with the quality of the work, and are very happy with the end result, and would definitely recommend them for any roof work. The whole experience was an A+ for us.
The company estimator, TJ, did an excellent job inspecting my house inside the attic and on the roof. He found several small leaks and some wood rot. At first I thought of just repairing the leaks and rotted wood but then decided to put on a whole new roof. RoofPro scheduled the work within two weeks of my accepting the contract; the work was performed in less than 8 hours; all materials were cleaned up on the site; TJ even repaired a small leak in my gutter which was not in our contract. I have recommended RoofPro to all my neighbors.
The overall team was excellent and the experience was good.
Displaying 7 Owens Corning Roofing reviews with comment.
For all reviews and comments, click here to visit this contractor's profile on GuildQuality.com.